ABP Best Home Care Agency is Here to Help
We understand the stress and strain Dementia diagnosis can bring to a patient and the patient's family. You can call ABP Best Home Care Agency to discuss your particular situation and needs to see what we can do for you. We want to provide this basic information guide for dealing with dementia. Please, understand that this information is not comprehensive and you should consult your doctor for complete care guidelines. This article will help you to get started.
The right diagnosis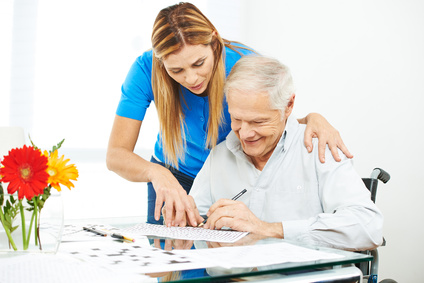 A proper dementia diagnosis involves blood tests, observations, and doctor visits. While symptoms such as memory problems, mental fuzziness, wandering, behavior changes, mood shifts, and more can be warning signs, they alone do not indicate dementia. A proper diagnosis is required for proper care and treatment. The sooner the condition is diagnosed the more effective treatment will be.
Seek out help
Do not face these things alone. This goes for the patients and family. There are a number of reliable sources of information and assistance that we can help you to find.
Set a positive environment for interaction
Dementia patients are particularly sensitive to their environment. Your calmness and not volatile environment will be the best for the patient. You will not gain much by arguing with a person dealing with dementia confusion. Sometimes it is the best to agree and move on except in cases where the situation may be harmful or undesirable for the patient.
Dementia is increasingly common
The frequency of the diagnosis is increasing. This is partly due to longer life expectancy and better medical screening. It also means that we know more about the condition and have ability to diagnose it earlier.
You have options
You can take the role of caregiver yourself or there are a number of care programs for dementia patients in their homes and out in day care centers. They can be explored to see what serves the patient's needs the best.
Contact us at ABP Best Home Care Agency to see how we can help you or your loved one to face the challenges ahead. You are not alone.